Online Dating for Black People
Online dating for black people has never been easier, as online dating platforms are abundant out there. You can find a dating website for black singles that suits all your needs and preferences and jump into the online dating pool in no time.
Do you need a dating site for black men that will help you meet many lovely ebony women near you? Perhaps you need a dating site for black women to help you find compatible singles for a serious relationship?
Whatever your goals are, you can find the right social service online that offers useful features for helping you achieve those goals. You just need to do a bit of research to lock in on a compatible and reliable platform that puts user safety first.
Read on to explore the benefits of dating sites for black people before learning the essential tips for staying safe when dating online.
Benefits of African American Dating Sites
Whether you want to meet singles for casual dating or find an eligible bachelor or bachelorette to start a relationship with, joining an African American dating website might be the best way to go.
It may be a bit impersonal (at first, at least) since you can't meet face to face with potential matches, but that's what makes it exciting.
You have to put an effort to get to know the person on the other side of the screen, make a great first impression (while staying honest and genuine, of course!), and create a strong bond (if you're looking for a relationship).
Such a unique digital experience will certainly add that je ne sais quoi to your love life. Perhaps that brilliant adventure will even lead you to your soulmate. You never know what's around the corner!
With this in mind, take a look at the three key benefits that African American online dating sites bring to the table.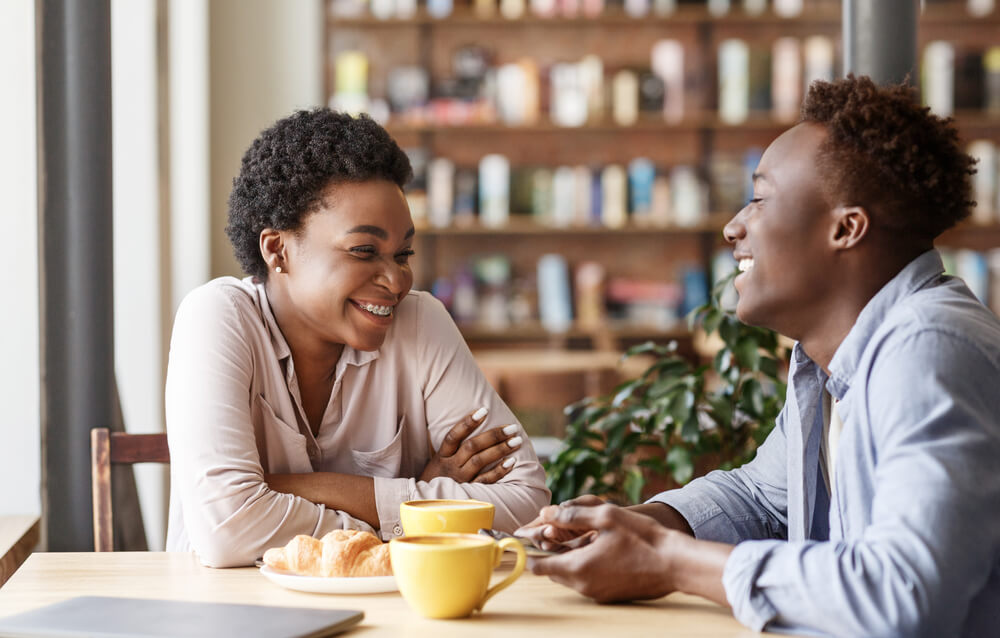 1. You can meet black single men and women worldwide.
If you join a global dating platform for black people, you can meet black single women and men from all over the globe.
That's perfect if you're a frequent traveler who doesn't want to put down any roots yet. You can take advantage of the "local singles near me" feature that every dating site has and find like-minded people interested in casual dating.
Of course, you can use your chosen platform to meet local singles in your hometown, too. As long as you complete your profile and set relationship and partner preferences, the platform will seamlessly connect you with potential matches.
There are even numerous search filters to help you find what you're looking for without a hitch. You can search by age, location, distance, gender/gender identity, sexual orientation, religious beliefs, and more to ensure you meet singles who match your criteria.
2. You can meet ebony singles seeking a committed relationship
Many people think that online dating sites are reserved for hookups only. While there are platforms with most users seeking casual dates, there are many dating sites for relationship-minded singles. A host of them supports both types of dating as well.
So, if you want to meet local singles interested in a serious relationship, make sure your chosen platform is aimed at relationship-oriented singles.
If it's a hybrid platform, gather information on its users to ensure there are enough of those who share your values, interests, and preferences - and that they're close by.
3. You can get safety tips for online dating for black singles
All the best dating sites for black people offer safety tips for online dating. Some run a blog on the website, providing relevant and informative articles rich with expert tips and advice.
Others have dedicated website pages with lists of safety precautions you should take when dating online. For instance, they tell you how to keep your personal information safe, what to do when you meet people from the platform in real life, and more.
You can even get tips for relationship-minded singles, such as how to create a strong bond and build a lasting relationship.
So, when searching for the right social service online that will meet all your needs, look for some expert online dating safety tips. They shouldn't be a deal-breaker, but they can be a nice touch.
How to Stay Safe After Joining a Dating Site for Black People
Like any other dating site, those that offer online dating for ebony singles call for some safety precautions.
Once you've become a member of a certain dating social service online, make sure you follow these safety tips:
Don't share your personal or sensitive information with anyone.
Look up your potential matches on social media and make sure their social accounts aren't fake.
Block and report suspicious users.
Video-chat before meeting with anyone in person.
Don't be afraid to say no to an already arranged date if anything smells fishy. You're allowed to have second thoughts and should put yourself first.
When arranging a date, always choose a public place.
Don't let your date pick you up because you don't want a stranger to know where you live.
Tell your friends or family when and where you're going on a date.
If you're getting bad vibes on a date, feel free to leave. Don't feel uncomfortable because your safety comes first. Always trust your instincts!
Stay sober!
The Bottom Line
Online dating sites for black people offer fantastic dating opportunities. They can help you meet like-minded singles quickly and spice up your love life before you know it.
Since they keep popping up, picking one can be a bit overwhelming. We recommend sifting through authentic online dating site reviews and user ratings to get a firsthand look into the top-rated sites and their features.